Update on Jackson
Jackson is getting so so big!  Potty training is hit or miss these days.  After Thanksgiving, traveling, distractions a lot of our progress went out the window.  Now I'm trying to decide what to do since he is getting back in the groove of it, but Christmas is next week with even more traveling and distractions.  We will have to wait and see.
We went to the Dr this week because both kiddos have tonsillitis.  They weighed him and he is 27 lbs (50th percentile) and I had them measure him 32″ (10th percentile)  He is our short, and stocky little man!  That boy can put the food away!  I have never seen anything like it.  All he wants to do all day is eat. And it is not like he is eating a ton of junk food and not eating at meals, or things that are good for him.  It is simply food put in front of him and then it disappears and he is begging for more.  This is what I typically hear all day…"Hot Dog, Ticken! Kakup! Fru! Petzal! Peaches! Appasau! CooCoo!"  and the list goes on and on…
Jackson is so great with Isabel lately.  Sometimes it is quite humorous.  I have made a habit of asking his advice when she is upset so he feels a part of the solution in calming her down.  He used to always just yell PACI!! Every time she cried.  Then he added in Shh! Bay Gur! (baby girl) Now he just looks at me and says "nigh nigh" (go put her in her crib!) He blows her a kiss when its time for naps by biting his bottom lip with his teeth and popping it really loud. It is adorable.  He also like to give Isabel, and any animal hugs.  Including ones that he particularly likes in him books.  I will be reading him a book and he will point to one of animals and say "Hug!" and open his arms wide.  I then have to hold the book up to his chest while he hugs it. hah.
He is practicing his own will more and more and quickly learning, Mommy and Daddy always win.  Sorry little man, but it will be this way for a while.
He went to a Christmas in the park the other night with some of our church friends.  Jackson had so much fun.. We also turned his car seat around to face forward!! Most kids probably already are forward at this age, but I did some research on the benefits of "extended rear facing" and felt like it was what we wanted to do till he got closer to two.  With Christmas and his second birthday right around the corner we thought it would be fun to turn him around to see the Christmas lights and he is LOVING it!  The car is like a whole new adventure to him.
Isabel Turns 4 Months Old
Well this is pretty late, but that's typically how things go now days.  Isabel turned 4 months old over Thanksgiving break.
Weight : 18 lbs 1 oz!! Still off the charts.  Avg size of an 8 month old 🙂
Length: 26 1/2 " Off the Charts and the avg size of a 7 month old.  (First the nurse said 27 1/2, the Dr didn't think that was right remeasured and said 26, I was not in the room either time because every 5 seconds Jackson asked me to take him to the potty…sigh).  I decided to measure myself and it came out 26 1/2  and I'm pretty certain that was accurate.
You are still living up to your nick name "The Tank" quite well.  
Here you are 2 weeks old and 4 months old.
Some things :
You can blow a "raspberry" Which you LOVE to do!  Even in the middle of crying you will stop, stick you tongue out and BLUUUUU!! 
You can grab your toes!
You are loving your thumb more and more every day. I give you a rubbery pacifier to chew on but it's pretty much just a teething toy to you
You have 2 teeth 
You can have quite the attitude!  You let out a little girly scream more often than an actual cry.

You started sleeping through the night again!  (the entire 3rd month you decided you wanted to start getting up a bunch again) 
You got sick for the first time  Jackson and you both currently have tonsillitis. You are still in great spirits though.
You are rolling over both directions and turning every which way in your crib. This is how I found you the other morning. 
You love seeing Mommy, Daddy and Jackson.  You are all grins every time you make eye contact with one of us. 
You still have some tummy trouble, but it is a million times better than even just a month ago.
You giggle and sometimes even snort!
Sorry if the quality on some of these are bad.  Some of them are just pictures off of my phone, because that's what I usually have with me for a quick snap!
Better late than never???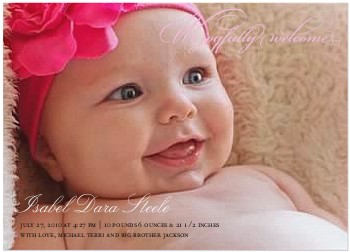 Sumptuous Script Pink Birth Announcement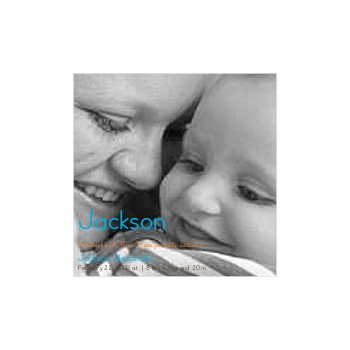 Baby Boy Name Birth Announcement